Series: Scandal & Scoundrel #3
Release Date: June 27, 2017
Rating: 5/5
I volunteered to review an ARC.
Add to Goodreads
The one woman he will never forget…

Malcolm Bevingstoke, Duke of Haven, has lived the last three years in self-imposed solitude, paying the price for a mistake he can never reverse and a love he lost forever. The dukedom does not wait, however, and Haven requires an heir, which means he must find himself a wife by summer's end. There is only one problem—he already has one.

The one man she will never forgive…

After years in exile, Seraphina, Duchess of Haven, returns to London with a single goal—to reclaim the life she left and find happiness, unencumbered by the man who broke her heart. Haven offers her a deal; Sera can have her freedom, just as soon as she finds her replacement…which requires her to spend the summer in close quarters with the husband she does not want, but somehow cannot resist.

A love that neither can deny…

The duke has a single summer to woo his wife and convince her that, despite their broken past, he can give her forever, making every day…
I am hiding under the cone of shame for having to read a historical romance just now. Let me explain. I was having second thoughts to pick up one because I thought the historical facts and the formal language only used in ancient times would swallow me whole. Turns out, I just needed to start from a great one and go from there. Which great book was that, you ask? This. Book. This book which just earned a top spot for 2017 best reads!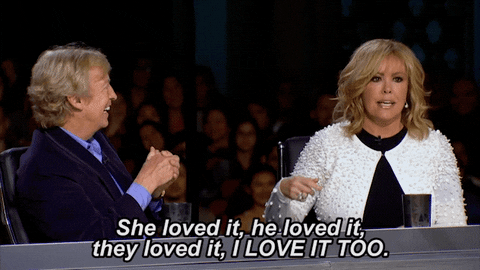 Second chance romance? Check.
Strong female lead? CHECK!
Hero has to grovel hard? GOSH YES. Gimme!
This is one of those books where there's no escaping the hurt, the love and every angsty bit of the characters that you have no choice but to feel so wrecked (read: a mess) by the raw emotions, how heartfelt and painful they were and how those feelings made the characters stronger at the end of the story.
Malcolm Bevingstoke, Duke of Haven, has paid the price of his mistakes in the previous book where he cheated on his wife thinking she trapped him to marriage (spoiler: she did because of her mother but her feelings for him wasn't choreographed), earning him three years of chasing her and three years worth of hating himself. Of course since he cheated, though the exact scene didn't happen in the book and was kind of just implied, it didn't make me love him instantly. I mean, WHO FUCKING DOES THAT? But along the way, having to know his intentions of pursuing her again though his particular way was still UGH WHAT ARE YOU THINKING MALCOLM STOP THAT, I think I fell in love with him because of his desperation to seek forgiveness of Sera. I'm not ashamed to admit I got instantly emotional because of that because I love, love how painful and beautiful it was. I saw how he patiently tried and tried again even when Sera was all like–NOPE, NO WAY, NOT EVER AGAIN, HAVEN. GO THE FUCK AWAY. The only way to somehow make her stay to convince her he's not that guy anymore was to set up a quest to find his next wife with the help of his current wife. (HOW TWISTED, RIGHT?! But trust me, no cheating during those times. But I also felt like bashing Malcolm in the head once or twice.)
And then there's the side of Sera's hurt where she also lost a child, even when Malcolm told her he didn't want any part of that life with her. (He still felt betrayed by her scheming and therefore cheated on her.) In those three years where she left Malcolm and her sisters without a word not only because his mother told her to (and gave her money!) but also because she felt like she lost everything already, she found her footing again in Boston where she met a very good friend and pub owner, Caleb Calhoun. Sera loves singing, people love it when she does and it makes her feel free. But she also felt the need to come back to London because she felt at home there, her sisters were there. She and Caleb can make a business there. However, for that to come true she needed a divorce to be from all the legalities of the law as duchess and also because she didn't want Malcolm anymore. Or that's what she thought.
Here, the author showed how Sera grew a backbone when she left London. I mean, I have already loved her in the beginning because of her sass and fierceness but I loved her even more because her personality has become more powerful, ready to take over the world and face the Parliament to ask for that divorce. The author also found balance in the female nature of Sera when she broke down in front of Malcolm because of the ugly things that happened between them. It was like underneath all that disinterest, still lies a woman who has feelings and is dealing with so much things lost. I also liked how persistent she was to ignore her husband even when said husband was bending himself backwards to earn her forgiveness and trust again. Let's not forget the Dangerous Daughters AKA Sera's sisters for having her back even when she left them and for not giving a fuck about Malcolm. Their loyalty was really something else. And they made sure to balance the heavy drama with their funny antics! And good job to Malcolm for putting up a good fight between what he wanted and what she wanted. I broke down again during those times because gaahhhh it hurt so good!!!
The Day of the Duchess is a huge web of lies, loss of trust, pain and hope and love that deserved a second chance. It's amazing the way Malcolm has to win Sera over by putting his heart on the line, not caring that it would forever be broken without her. It's wonderful how both of them knew what they wanted (Sera her freedom, Malcolm his wife) and worked for it hard and grow up along the process of healing. They both persisted to have their well-deserved HEA.
I don't know about you but if there's one thing that would have me 1-clicking a book, it's a second chance romance DONE WELL AND DONE RIGHT. For me, that's The Day of the Duchess.
Listen. You know how cheating is such a hard limit to me and you may be rolling your eyes at my contradiction for giving it 5 stars. Let me explain myself. Yes, the hero cheated but the actual cheating didn't happen in this book. I still think it's a dick move even when it only happened once. And for the record, I didn't love him right away. It did help that the author didn't cower by the fact that her hero might as well be dead to the readers because of that. BUT the way he redeemed himself had my heart shattered to pieces. IT WAS GLORIOUSLY HEARTBREAKING, BEAUTIFUL IN ALL THE RIGHT WAYS BECAUSE FINALLY HE GOT IT. It certainly is not an easy book because of the couple's history and the intense angst throughout but damn if I would have it any other way.
I only ever want you to be free, love. I only ever want you to be happy. I only ever want you to choose your path and know that I shall love you better for it. I shall love you."